Creation Justice Ministries and National Council of Churches USA Celebrate Pope Francis's Call to Observe a World Day of Prayer for the Care of Creation
WASHINGTON, DC, August 11, 2015 – Creation Justice Ministries welcomes with joy Pope Francis's call for Roman Catholics to join in Christian unity with the Orthodox Church in observing September 1 as a World Day of Prayer for the Care of Creation. For the Orthodox community in the United States, September 1 has significance beyond its proximity to back-to-school events and Labor Day weekend. It is the beginning of the liturgical year, which brings symbolism of renewal as well as significance to the date.  The Orthodox Church has observed the Day of Prayer for the Care of Creation since 1989.
Creation Justice Ministries Executive Director Shantha Ready Alonso said, "Prayer is powerful. Uniting in prayer will give us the spiritual strength we need to face the most daunting challenge humanity has known: to heal and restore God's web of creation before it is too late."
Fr. John Chryssavgis, theological advisor to patriarch Bartholomew and member of the ecumenical office of the Greek Orthodox Archdiocese of America, commented, "I don't think it is coincidental that Pope Francis and Ecumenical Patriarch Bartholomew are leaders in their respective churches at this critical moment, when our response to the challenge of climate change demands shared responsibility and commitment. This gesture by the Pope is yet another manifestation of his humility, spontaneity, and priority for what truly matters in our world."
In an August 31, 2014 statement preparing Orthodox communities for the Day of Prayer for the Care of Creation, Ecumenical Patriarch Bartholomew said he invites "all people to continued vigilance, consciousness and mobilization of their resources in order to return to the state that reflects – if not the absolute Eucharistic and doxological condition of Adam and Eve – at least the condition inspired by God's grace and mercy."
Creation Justice Ministries urges all Catholic and Orthodox congregations to unite in prayer, and invites more Christian communions to join the ecumenical World Day of Prayer for the Care of Creation. Creation Justice Ministries stands ready to support faith communities with free ecumenical creation care prayer resources at www.creationjustice.org.
Creation Justice Ministries represents the creation care policies of 38 Christian communions, including Baptist conventions, mainline Protestant, Black Church, Peace Church, and Orthodox communions. www.creationjustice.org
February 17: NH Voices of Faith held a vigil in the Hall of Flags today prior to House and Senate committee hearings on "right-to-work-for-less," a perennial proposal to undermine the human rights of workers. Clare Chapman, NHCC executive director and board members, Marti Hunt and Rev. Mary Westfall attended.
February 13, 2015: Clare Chapman, Executive Director of the NHCC and Sue Brewer from the Greater Concord Interfaith Council meet to discuss future ecumenical programs.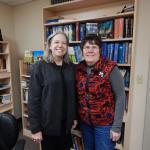 About The Greater Concord Interfaith Council: The members of the Greater Concord Interfaith Council, responding to the invitation to grow in the knowledge and love of our religious lives, affirm that what unites us is greater than what divides us. We work to create a respectful environment in which earnest people explore our religious diversity through common worship, mutual education, and community outreach. We trust that where there is conflict, people of faith can reach understanding and inspiration.
We desire to provide leadership that encourages a humane and more public life.
April 17, 2014— Death Penalty Repeal
Ring Around the Capitol
On one of the holiest holiday, hundreds marched around the State House today in hopes to repeal HB 1170, in hopes to to visually demonstrate the sentiment expressed by Dr Martin Luther King over 40 years ago: that "darkness cannot drive out darkness, only light can do that. At 10AM, 10AM, many of the supporters moved into the Senate Chambers in the State House. For up to the minute information about the repeal of this bill, visit http://nodeathpenaltynh.org/.
October 10: Former NH Attorney General Speaks out about the Death Penalty. Listen to Phil McLaughlin's talk.