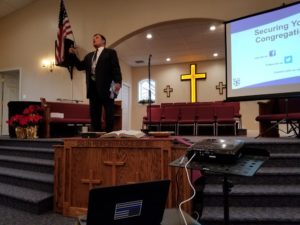 UPDATE: Watch coverage of this event on WMUR–you might see yourself!
Today 100+ people packed the sanctuary at Heritage Baptist Church for our Active Shooter Training. Thank you to Joe Hileman and Terry Choate of Blue-U for offering this free course and to Pastor Hileman of Heritage Baptist for hosting us!
The day was very informative and communicated about good systems to put in place that keep churches safe and welcoming. They clearly communicated that we do not need to respond with guns in order to neutralize a dangerous person with a gun. Hopefully all attendees had their perspectives changed, challenged and informed and can bring some of these systems to their home churches.
Already we have had offers from other churches to host this again, particularly in parts of the state far from Nashua. If you are interested to attend in the future, please watch this space!