For more information or to give a gift, please visit nhchurches.org/give
How very good and pleasant it is
when kindred live together in unity! (Psalm 133:1)
Dear friends,
The New Hampshire Council of Churches is made up of 9 denominations and nearly 400 local congregations. There are many things that our denominations cannot do alone, but they can be accomplished when we all come together as the Body of Christ through the NH Council of Churches.
Rev. John Sawyer, pastor of Bedford Presbyterian Church, summarized our mission: "In the spirit of unity, we minister…
…to foster interfaith conversations and cooperation,
…to support churches during the pandemic, providing up-to-date information and guidelines from the state.
…to equip clergy in our opioid crisis,
…to advocate for our immigrant neighbors who have settled in our state, seeking a better life.
…to foster important discussions on race and race relations,
…to equip churches as good stewards of God's Creation.
…to cooperate on behalf of the prisoner, the marginalized, and the oppressed.
…to pray for our diverse churches and their ministries."
If you'd like to continue to see these kinds of ministries in New Hampshire, would you please make a donation to our 2021 operations? In 2019 under $20,000 of our funding came from denominational bodies. That's a small fraction of our budgeted expenses of more than $130,000 in 2020. The rest depends on congregations and individuals who know our world needs this faithful witness Can you support us through your 2021 budget or your discretionary funds?
For more information or to give a gift, please visit nhchurches.org/give
Work of the People Award Honoree: Arnie Alpert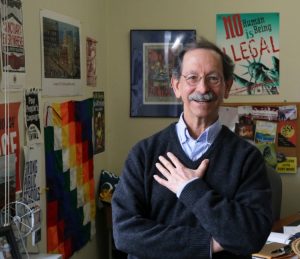 The NH Council of Churches is excited to honor Arnie Alpert with the 2020 Work of the People award. Arnie Alpert recently retired from the American Friends Service Committee after 39 years. As he retires, we celebrate Arnie's work on the repeal of the death penalty, advocacy for peace and his work for racial and economic justice.
The NH Council of Churches interviewed Arnie about his decades-long work with churches and other faith communities, as well as the power of sacred story and singing in both worship and in advocacy movements. The full interview with Arnie Alpert can be seen on our website at nhchurches.org/spiritofunity2020/.
Here are a few of Arnie's words for us in that interview:
We are obviously in a very difficult time right now, with the pandemic, with the increase in the virulence of racism and antisemitism and in what seems to be an increasing tendency for people to take up arms or use violence to enforce their own political beliefs.
There is a strong need which can come from the faith community for people to step forward and say that the way of nonviolence and the way of active love is not only more in keeping with who we are and the world we are trying to create, but it is the way to bring about the transformation that transforms injustice to justice, that transforms hate into love, that transforms inequality into equality….
I am hopeful that the Council of Churches and the groups that make up the Council will continue to be advocates and examples of how to make that happen. …That's where we will find people who will help others understand that this is the way we must move forward, if we are to try to create that world that we can imagine but can't quite see right in front of us today.
For more information or to give a gift, please visit nhchurches.org/give