The Church: Wesley United Methodist Church, 79 Clinton St, Concord
Denomination: United Methodist, New England Conference
Worship Leaders:
Rev. Jim Batten, preacher
Ken Gallagher, musician
Kathy Hamilton, liturgist
Misty Griffith, children's sermon
Electric Praise band
Handbell Choir
Sanctuary Choir
Date and Time: Sunday, November 12, 2017, 10:30am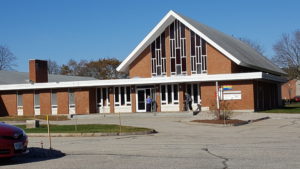 I arrived about 10:15am to listen to the praise music advertised on the website. As I entered the building at least three people greeted me warmly. The smell of coffee filled the entry area.
The Electric Praise band asked us to stand and we same some worship music standards. One of them, "I Will Call Upon the Lord," I had learned at church camp and hadn't sung since about 1994!
One member of Electric Praise recounted a conversation with her young daughter about our joy in going to heaven.
During the worship service, everything I needed was projected on the screen, meaning I didn't much need the bulletin or the hymnal in the pew.
Musicians provided a breadth of musical styles: praise choruses, traditional hymns, handbells and a choral anthem.
The church's lead pastor, Rev. Peter Hey, was away for the Sunday. We were told that he was spending the weekend with the youth group.
Rev. Jim Batten preached on Isaiah 6:1-8 with the title "Why I Attend Church." He told a story imagining what it might be like to attend church in a place where Christianity is persecuted. This was fitting as November 12 is the Day of Prayer for the Persecuted Church. Rev. Batten focused particularly on the work that the church does in the world. So, a big part of his answer to the question, "Why do I attend church?" was that he didn't want to live in a world without that mission and ministry in it.
Following the service, I ran into a long-time friend, Rev. Dwight Haynes, a retired pastor. He introduced me to Rev. Batten and a number of other folks attending the service.
For everything that I experienced, I most enjoyed just being able to sing praise music for a while before the worship started. I'll probably be singing "I Will Call Upon the Lord" for days to come!
How was your worship service on Sunday morning?
Would you like the NH Council of Churches to visit your worship service? Let us know and we'll be there!