In the Bible, figures like Joseph, Esther, Mordecai and Paul used their influence for "the good of their people and for the welfare of all their descendants" (cf. Esther 10:3). In the November 3 election, these materials can help you ask how God might want you to use the influence of your vote for the good and welfare of all.
Important Update on Voting
Just as God sees all people and hears their prayers, every person should be represented in their community's governance and have a voice. As people of God, we encourage you to vote in the upcoming election.
If you are voting absentee and have not returned your ballot…

It is now too late to return by mail. You can hand deliver your ballot to your Town Clerk (find your Town Clerk) during business hours or to your polling place on Election Day by 5:00 PM.

If you have not yet requested a ballot but do not want to vote in person…

It is too late to request an absentee ballot by mail. However, you can vote "absentee in person" at your Town Clerk's office at any time during business hours–requesting, filling out, and submitting your absentee ballot on the spot.
To stay safe, visit during non-peak hours and follow safety protocols; you may have to wait in line.

If you are voting absentee and already returned your ballot…

You can check its status here.

If you are voting in person…

You can find your polling place, polling hours, and see your sample ballot here.
To keep yourself and others safe, wear a mask, stay 6 ft from other people, avoid standing face-to-face, sanitize before and after touching surfaces, and bring your own pen.
By law, polling places must accommodate curbside voting upon request. Call your Town Clerk for instructions.

However you vote, we encourage you to Pledge to Vote on Our Values. Please take the pledge now to affirm your commitment to voting.
Watch and share our October 6, 2020 webinar, Everything You Need to Know about Voting in 2020:
The materials below are prepared by other New Hampshire organizations and are linked here with the support of the NH Council of Churches board.
Open Democracy
Click here to see Brian's slides "Safe Voting in NH, Nov. 3, 2020."
Brian Beihl, Deputy Director of Open Democracy has prepared two documents about how to request, complete and return an absentee ballot in New Hampshire. You can contact Brian about these materials at Brian@OpenDemocracy.me or (603) 620-8300.
Click here to request an absentee ballot from the NH Secretary of State. Return this request form to your town/city clerk for processing and you will be mailed your ballot. Absentee ballots should be mailed by October 15 in order to ensure timely delivery.
The materials below are free for your use. You may wish to:
Download and print them for inclusion in bulletins or newsletters.
Copy and paste them for email newsletters or social media posts.
Read and study them to answer questions to members of your congregation.
Files and graphics
NH Interfaith Power and Light (NHIPL)
New Hampshire Interfaith Power & Light is mobilizing a religious response to the climate crisis. NH IPL is currently engaged in our Faith Climate Justice Campaign to organize, mobilize, and activate congregations to get involved in our campaign actions, get congregations registered to vote, and elect climate champions up and down the ballot in 2020.
NH Interfaith Power & Light encourages all churches to visit their Faith Climate Justice Voter website where you will find their Voter Pledge, Values Voter Guide, Sermon Resources, and more! If you would like to volunteer with our campaign to mobilize and activate your congregation by becoming a 'Congregation Captain' please email the Campaign Manager, Andrew at AndrewmAhern11@gmail.com.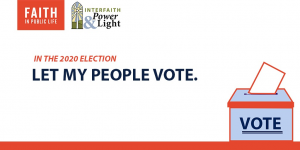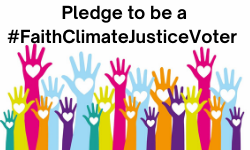 The NH Council of Churches supports NHIPL in their faith-based mission for creation care. their goals are in agreement with our 2016 Stewardship of Creation Policy Statement, unanimously approved by all nine of our member denominations. From that statement, we affirm, "As good stewards we are called to take actions on behalf of creation that we might honor God, preserve Earth and its rich variety and bio-diversity, and find delight in this place we call 'home.'"
Granite State Organizing Project
Our friends at the faith-based Granite State Organizing Project have three nonpartisan opportunities that your congregation may wish to use in order to increase voter engagement.
Pledge Card
The NH Council of Churches encourages you to pledge to vote on our values by clicking here. When you pledge to vote, you may opt-in to helpful reminders on when and where to vote.
Volunteer Opportunities
The NH Council of Churches is partnering with the faith-based grassroots network Granite State Organizing Project in a non-partisan effort to increase voter turnout. We invite you to volunteer in GSOP's phone-banking and text-banking efforts. To sign up, click here. For more information, email mbernardin@granitestateorganizing.org.
Voter Match
GSOP also offers the opportunity to increase turnout and build relationships within your own congregation. By request and for free, GSOP will match your members to public voter registration records and support you in making one-on-one outreach to your members who are unregistered or low-frequency voters. For more information, email cpotter@granitestateorganizing.org.