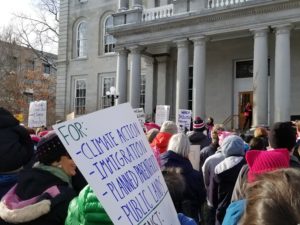 This weekend was busy for the NH Council of Churches! The Council participated in two events: the Women's March in Concord and the Immigration 101 forum in Keene. At both events, Rev. Jason Wells spoke about the Council's mission of Christian unity around immigration solidarity, the repeal of the death penalty and the New Poor People's Campaign. Frequently, the speakers on the Women's March dais quoted the Bible, especially the prophetic visions and injunctions that a God-aligned society welcome to the foreigner and equality for all who live together, men and women alike.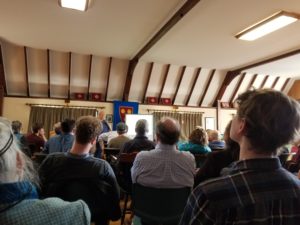 The Immigration 101 forum welcomed about 45 participants from Keene, Acworth and many towns in the region. Eva Castillo and GSOP's Sarah Jane Knoy led discussion of the various kinds of non-citizen statuses that many citizens have the privilege not to understand. Can most of us distinguish between permanent legal residents, the undocumented, refugees, asylum-seekers and temporary protected status? Further, how has the Trump administration changed immigration policy since the Obama administration and how is it affecting people in New Hampshire?
From the NH Council of Churches, Rev. Jason Wells spoke briefly on the movement of "Sanctuary churches" in the state who have offered to take in someone who is fearing deportation. Currently we have found 3 such "Level 1" churches in the state. To support them, the Council is developing 5-6 other "Level 2" churches nearby each "Level 1" church for volunteer and material support.
Afterward, many individuals expressed interest in working with the NH Council of Churches to develop this kind of network in the Keene region and also to bring a New Poor People's campaign organizing event to this portion of the state!