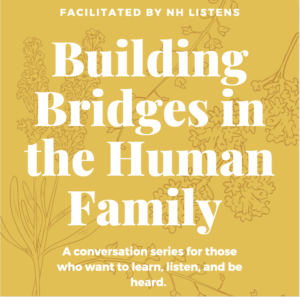 You may have seen on our Facebook page that we are partnering with NH Listens, the ADL, and others to launch a new series of conversations. Building Bridges in the Human Family is setting the table for us to have honest, provoking, thoughtful discussions about race.
Who is this for? Anyone who is interested in coming to this table to explore the questions asked below, or who is curious. This is not an event exclusive to people of faith, and people of faith are welcome. This is work that is central to the work of the Church and of faith. It is also work that belongs to the whole human family!
We are hopeful this space will allow for a chance to proactively practice our discussion skills, and relationship building. This is a space for those who genuinely want to listen, to learn, and to be heard. We will do it together!
Curious about the anti-black, anti-white divide? Want to discuss race and racism but are afraid to say the wrong thing or offend someone? Want to discuss how we can move on from our tragic past? How the past impact us today? How can we be united if we are divided by race?
If you want to engage these questions faithfully with us? Join us online March 19th, April 16th, May 21st, and/or June 18th. Come to one session, all sessions, or those you can attend. Register here: https://events.r20.constantcontact.com/register/eventReg?oeidk=a07ejp0gmkj913cefe5&oseq=&c=&ch=